I've never been fashionable, but there have been times in my life when I've enjoyed British fashion. However, the Vintage and Hipster fashions which have become more and more popular have driven me closer and closer to Asian fashions, especially Gal.
Edit: I think I need to clarify this post a bit. It's completely my own personal opinion. Please keep in mind, just because I intensely dislike something, doesn't mean I think everyone should or that thing is in some way inferior.
Edit2: I love that Blogspot tells you which keywords have brought people to your blog from Google. I got a hit for the search term "i hate western fashion" which amused me very much. Wonder if the person found what they were looking for :p
Rant and pics inside.
The current fashionable look in Britain (and going by Lookbook and webstores, the USA as well) is what I'd call Vintage Hipster. The idea seems to be to look pale and malnourished, not particularly clean, and like you found all your clothes in an old wardrobe somewhere.
Don't get me wrong
, I've seen people rock this look, but it's seeming so overdone recently. And it's not my taste. Edit: For examples of Hipster done well, check out Lookbook and visit the 'hot' page.
Lets start with the face. Asos is a British hipster brand which seems to be popular in the US as well. Rejeuna is a cheap Gal brand. Both these photos are catalogue pics for winter goods, but there's quite a contrast. Asos girl looks pale and miserable, while Rejeuna model Kanya looks warm and happy. Asos girl's hair looks dirty and unkempt, her make up very subtle and her brows are enormous, which is fine on the beautiful model, but it wouldn't be fine on just any girl. Kanya's hair and make up would flatter nearly anyone.
So from this pic, I get a feeling that hipster fashion is only for pretty people whereas gal is for everyone.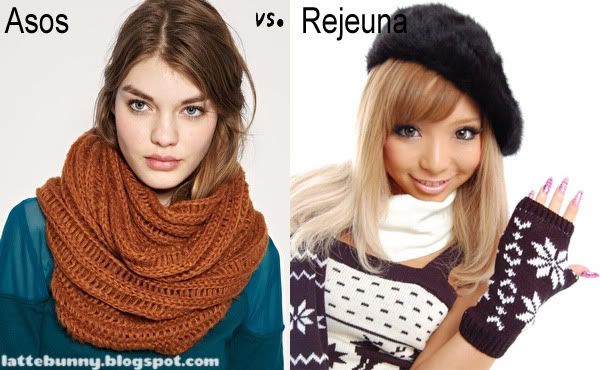 Lets have a look at Gal's take on vintage. On the left we have Zara, a popular European brand. The model is extremely thin, but if I imagine myself wearing these skintight cords it frightens me. The Liz Lisa pants have a more relaxed fit and a cute ruffle detail.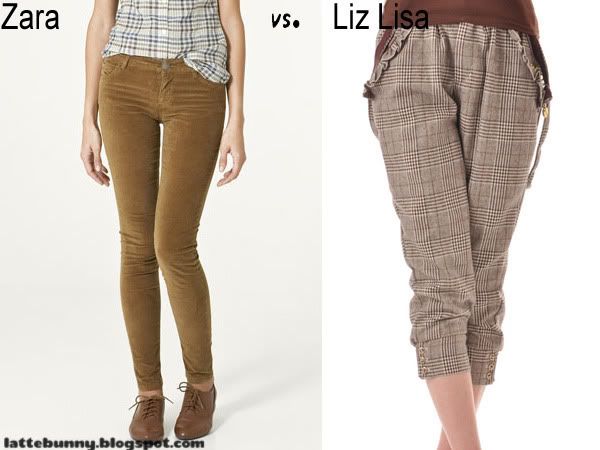 Here is a comparison which isn't very factual, it's simply to show what pops into my head when I think of these two styles: baggy, manly and unflattering vs. cute, girly and playful.
The Zara outfit just looks so miserable. Like the actual clothes are sad. I know we are in a recession and Japan is not, but do we have to show our misery in our clothes?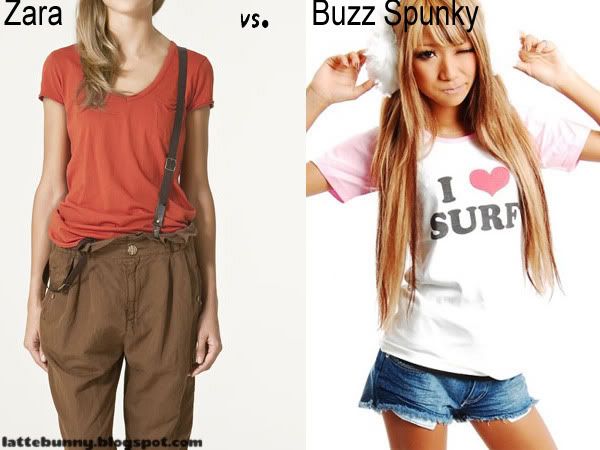 A quick beige bag comparison. The Topshop bag is vintage-style and rather masculine, whereas the Cecil McBee bag is definitely for girls only.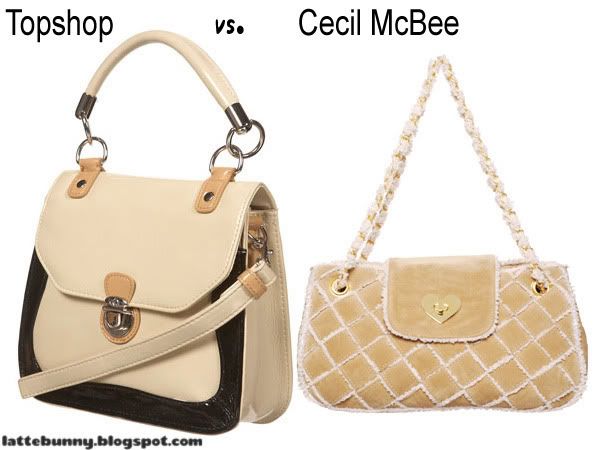 And since beige is big this season, here's beige skirts too. I won't add a comment, I think the fact Topshop is selling this skirt to teenage girls says more than I could.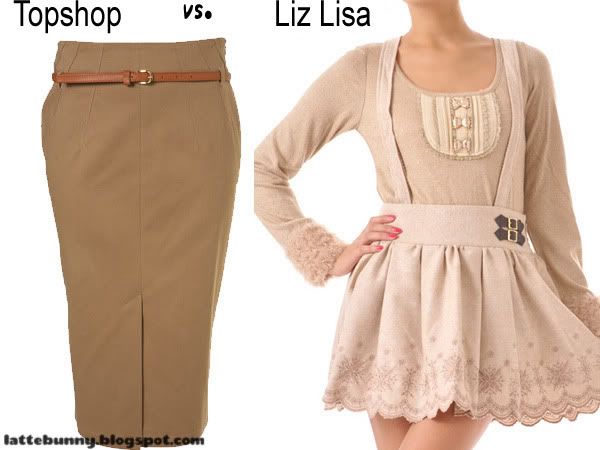 Playsuits/all-in-ones/onepieces/jumpsuits/salopette, whatever you call them, are popular everywhere. In Gal, having dark eyebrows with light hair is a big faux pas, but Asos girl wears her dark eyebrows with pride. I'd expect it to be quite difficult to make a playsuit masculine, but Asos have managed. Look how thin the model is in the arms, but still looks bulky in the body due to to the thick leather. The Cecil McBee salopette on the other hand may not be practical for winter, but it's adorable and is brightened up with a pink fox tail. I'm anti real fur, so I wouldn't buy this item myself, but it's cute.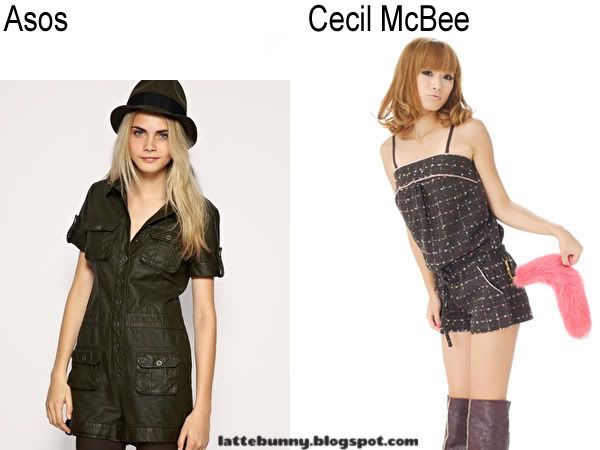 Winter puffa coats. Paul & Joe want £415 for this ugly unflattering coat. The Cocolulu one is still expensive, but it is a brand after all :)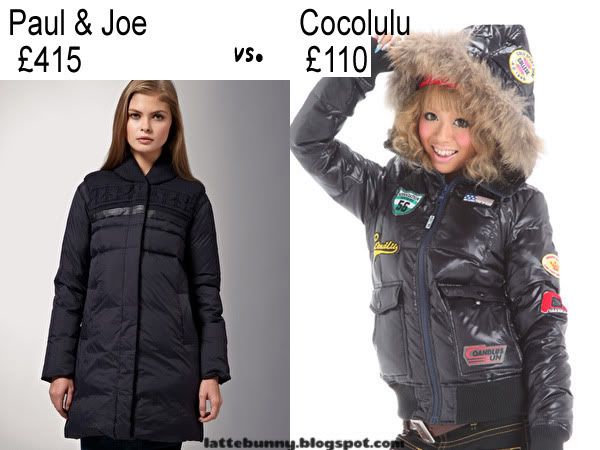 I wonder how many people I offended here. I guess my main issue with the hipster fashion is as I mentioned above- it seems so exclusive by only suiting the thinnest and the prettiest yet I feel like it's all the UK shops sell. Gal on the other hand, is flattering to the face, and while it's sometimes hard to find Japanese clothes in larger sizes, it is possible to dress Gal while having an ordinary, healthy figure.
After all that negativity, here's some stuff I love this winter. Click to view it full size :)
I'll make sure the next post is positive to balance this one out!